Let's say you have an important presentation at work tomorrow and you are rehearsing it the night before. Right when you come to the video that contains the main content of the presentation, it just won't open. And the screen goes 'Error loading media file'. Without the video the presentation is incomplete and now your video file is corrupted. What would you do?
In another scenario, let us assume you are just sitting in front of your laptop and trying to play one of your old videos. A message pops up on the screen, "can't open the media file".
The point is, such instances where you come to face the corrupted video files happens more frequently than you know, and that happens to a lot of people too. But getting all tense and worried doesn't bring anything good nor does it get your video back. Then, what can you do? You can always repair it. Wondering how? With a video repairing tool.
Ever heard of the Stellar video repair tool? If you haven't, this is the time you do.
Everybody might have come across several instances where they download a video or create one. But when the time comes where you seriously need it, it won't play. Then you realise that your video is corrupted.
The corruption might have happened at any stage while you are creating or downloading or editing or transferring the video. But the main thing here that you need to keep your focus on is repairing the corrupted video. This is where the Stellar video repair tool comes in handy. This video repairing software is recognised around the world for the best video repairing services it is offering. It also has a 5-star rating from the Trust Pilot for its wonderful video repairing services.
You might wonder, what makes Stellar so special, that it stands out from the other tools that are offering the same services. Let's go ahead and find out.
What is the Stellar video repair tool and how is it gonna help you repair your corrupt videos?
The stellar video repair tool is a go-to solution for all your damaged, broken or corrupted video files. It has a user-friendly interface that helps you navigate easily through the software. With this tool, you can easily repair your videos even if you don't have any prior experience or knowledge about all these. You can find all the features you need to repair the video in a single place and you can complete everything within a few clicks.
Before going any further first let's review the features this video repair tool has in store for you.
Supported Video Formats
The software currently supports the repair of 17 video formats. The supported formats include 3G2, 3GP, ASF, AVCHD, AVI, DIVX, F4V, FLV, M4V, MJPEG, MKV, MOV, MP4, MPEG, MTS, WEBM and WMV. So whatever is the format of your video, you can repair it on Stellar. Since it supports all the popular video formats, you won't face much problem with the format of your video.
The software also supports videos shot on literally any device. Let the video be shot on DSLR or CCTV footage or something shot on your phone or digital camera or a drone, Stellar can help you repair any of your videos with just a few clicks. All you have to do is transfer the file to your Windows or Mac system and you can edit it right from your computer.
Supported video codecs and digital players
The tool supports all the popular video players like VLC media player, MPlayer, MX player, Winamp, Windows media player, QuickTime, iTunes, Adobe Flash Player, etc. It also supports video codecs like Quicktime, H.263, H.264, H.265, MPEG4, 3GP, Windows Media 8, JPEG 2000, HEVC and many more popular video codecs.
The repair tool can be used to repair multiple issues that might arise with your videos like the corruption in the video frame, codecs problems, header, video playback issues, video stuttering, jerky, flickering, sound section and any other errors in the video.
Advanced Repair
Stellar offers basic to advanced repairs of your video based on how corrupt the file is. It can fix issues like flickering, stuttering, grainy, frozen, jerky, blurs etc. For advanced repairs, it uses a sample file of the same format that is shot from the same device.
Pricing
You can easily download Stellar Repair for Video tool for free without having to enter any credit card details. You can preview repaired files upto 20% of the total video size in free demo of the software.
But if you want to download the complete repaired video files, you need to purchase the software., No need for any monthly renewals. You can get all that it has to offer with just a one-time payment with which you can get a lifetime subscription.
Let's take a look at the different plans that it is offering
The Standard plan for $49.99
The Premium plan for $69.99
The Technician plan for $99.99
These prices are very reasonable since it is just a one-time payment. However, if you are someone who works with photos and videos frequently this would be a small price to pay for the varied services Stellar is offering. With these plans, you can access the other services Stellar is offering in premium plans such as photo recovery and photo repair along with video repair in Premium and Technician plan with single and multi-user license respectively.
How do you repair a corrupt file with Stellar?
The first step in the process would be installing the software. For that, you need the Stellar video repairing tool which you can download online. Complete the installation process. Before or after the installation of the software on your Windows or Mac computer you should transfer your corrupt video file to the computer. After the installation process is complete, go to the Stellar icon on your computer and open it. Follow the steps below:
Now click on the 'Add File' to import your corrupted file. You can import one or more corrupt files at the same time and repair them all at once.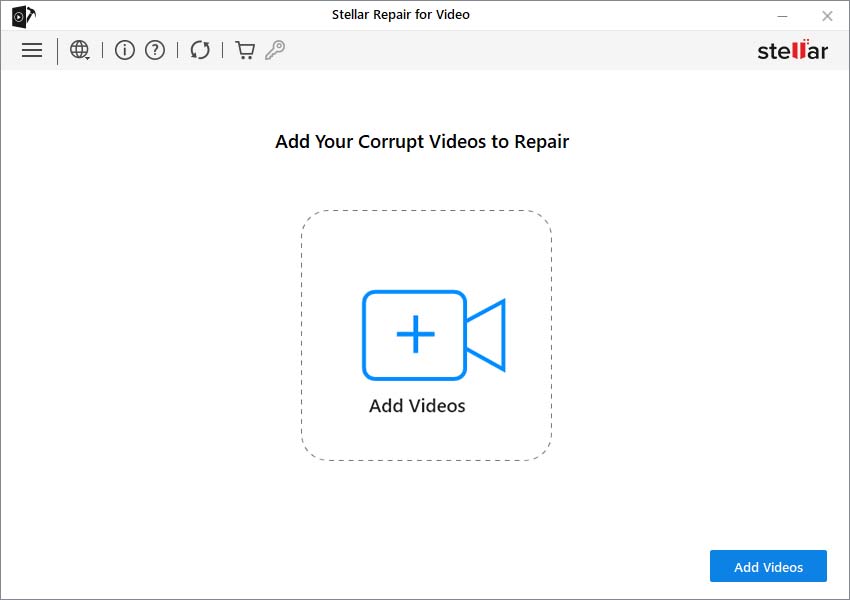 After the import is done you can select the files to repair and then click on the repair option.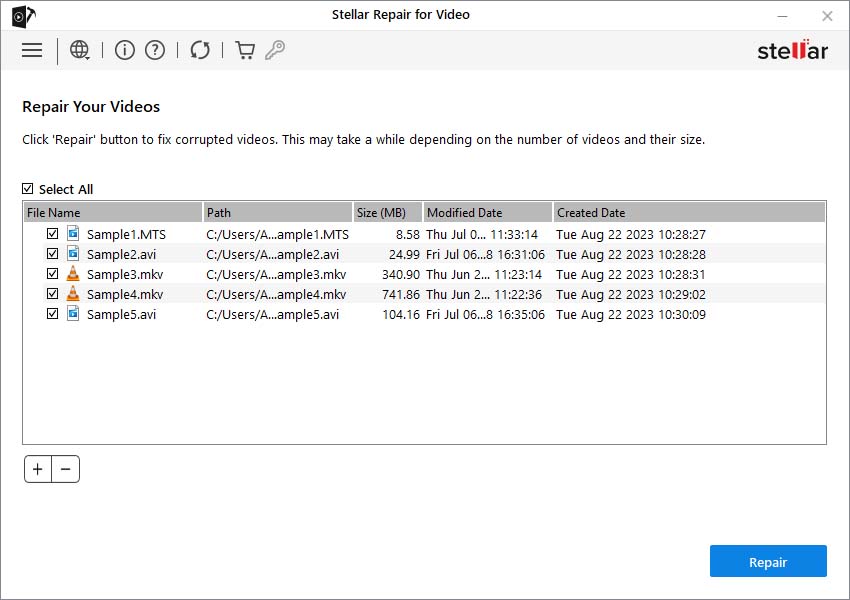 Once you are done with the repair, you can preview the repaired files before you download them to your computer.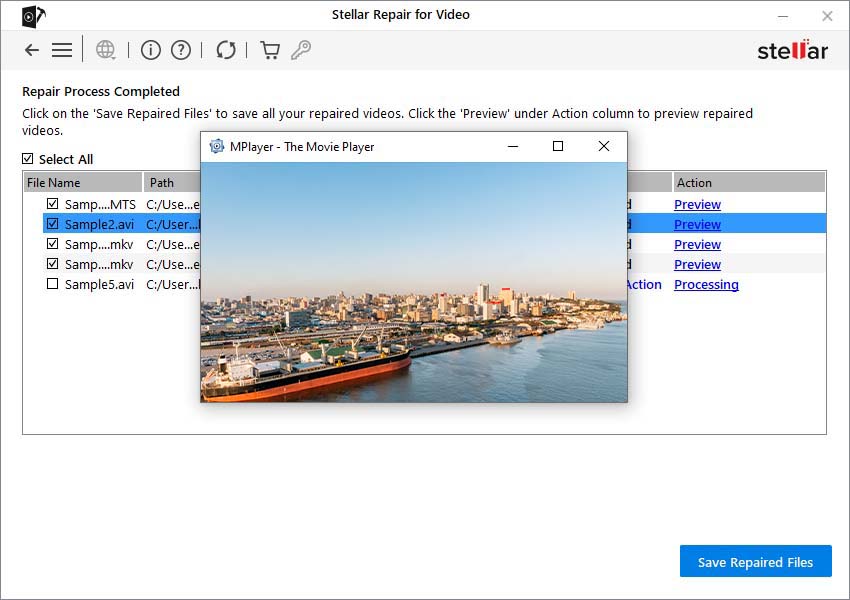 In conclusion
Stellar Video repair tool is a perfect solution for all your video repair needs. As mentioned above in the article, it has a lot of wonderful features you need to get your corrupted video back and running. On top of that, the tool is free from any virus or malware. Why the wait then? Go on, download it online and start repairing your videos.