5 Ways to Hack Social Media Messages from Someone's Phone Secretly
by
Josh Biggs
in
Tech
on
13th March 2021
Why do you want to hack someone's social media messages? It's not okay prying into someone's privacy, but some situations will demand it. Your spouse is always on the phone in the evening before sleeping.
The same applies to your kids who don't even have time to listen to what you have to say. The pictures on Facebook are very pleasing to their eyes. That's why your sound doesn't suit their ears.
Being in such situations will prompt you to look for hacking ways to get the activities. We are not here to advertise apps that will fail you once you try. These are solutions that the world recommends, too, since they are all tried and tested.
Part 1: Hack Social Media Messages with Spyzie Application
Getting someone's social media messages is not straightforward until you meet a suitable application. Many have tried various applications, and failure is limiting the chances of trying again.
However, we have hacking apps like Spyzie that you can learn from by visiting their official page. In aiding millions in more than 190 countries, people have known the best hacking practices.
Using this application means getting the results in five minutes at most. It may sound like a purely promotional message, but suitable qualities make it fast. First, you can use it on both Android and iOS platforms without rooting or jailbreaking.
If you know what that means, you know it's not the best practice when dealing with phones. To counter that, Spyzie possesses cutting-edge technologies. They help in getting complete information without altering the target phone whatsoever.
Androids require a one-time installation before viewing the results remotely. In iOS, all you need are the iCloud credentials to hack the device. Once the setup is complete, Spyzie shows the text messages from social media platforms remotely.
They will also accompany all the attached files, timestamps, and contact details. Your target never knows since it has the stealth mode feature. It helps the app to hide as it fetches the information.
Parents and employers have used this solution to get the following platforms:
Facebook
Twitter
WhatsApp
Instagram
Kik and more
The social media category in this app carries more than 15 apps to hack. Apps like Facebook and Twitter have secret messaging platforms. This solution gets that too. The beauty of using Spyzie to hack is that you can uninstall it remotely via your online account.
Part 2: Hack Social Media with Spyier Application
Another spying application that many users have depended on is Spyier. You don't need any hacking knowledge to use it since most of the background work is already done for you. With Spyier, you can also hack all the social media activities on Android and iOS.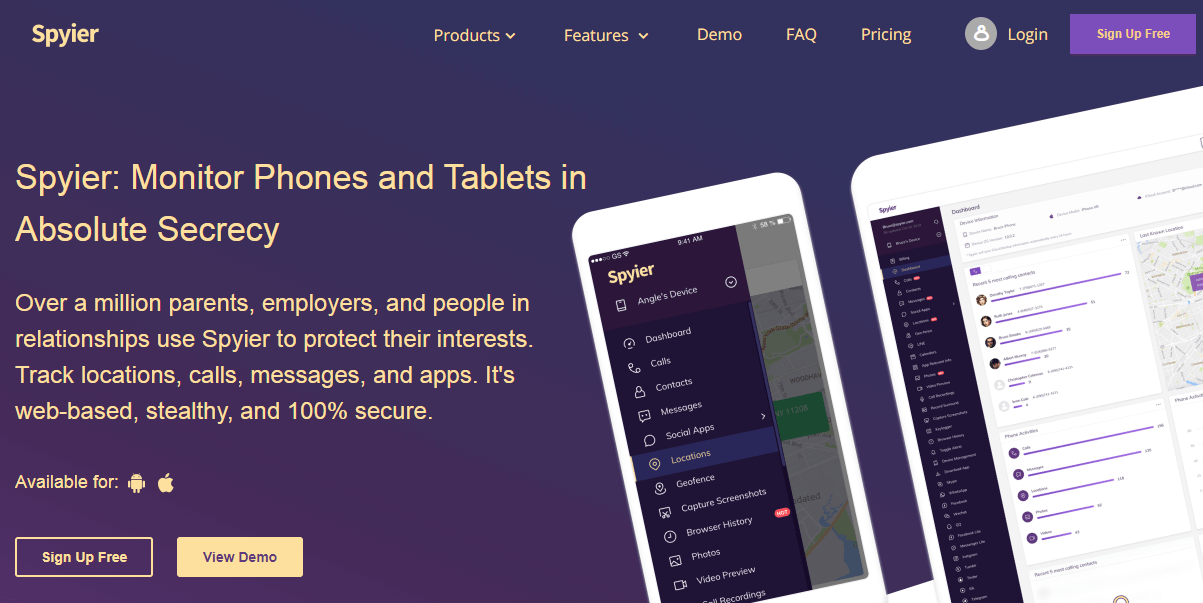 It works with Android 4.0 and above and iOS 7.0 or later. Apart from instructions to set up, you will not need anything else to kick start the solution. The social platforms' messages and other data will be available in your online account.
Platforms like Facebook, Instagram, Tinder, Snapchat, and WhatsApp will be on the list. If there are third-party applications outside the list, you can get them using the 'Applications' feature on the dashboard.
The control panel here works with all browsers. That means you can use any internet-enabled device to get messages and other activities.
Part 3: Hack Social Media with Minspy Application
Minspy came in to solve hacking social media and other phone activities on the latest phones. Therefore, you can use it on the recent Androids and iOS devices down to version 4.0 and 7.0, respectively.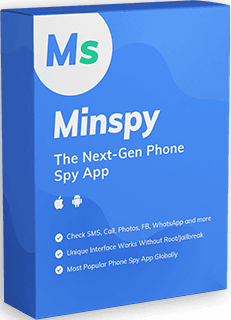 It uses an online dashboard in your account to show you the results. That's where you get the social media messages on all platforms, from Facebook to Telegram. It will also not leave the contact details, timestamps and anything attached.
You don't need the rooting and jailbreaking tricks to use it. That's why it also one of the few apps that offer a faster setup with exclusive results. We can thank that to the cutting-edge technologies present in the hacking solution.
As you hack the social media apps, Minspy protects you from other hackers and unauthorized access. It does that by using the online storage as a syncing place instead of a storage unit.
That is how Minspy keeps the other hackers away from what you retrieve.
Part 4: Using the Recovery Options
If you can't install a hacking app on the target phone, there are recovery options to try out. Every platform has a way to recover the login credentials. In most cases, you may need the username or the email to recover the password.
People have used the recovery options to bypass accounts, but there is a grey line. The targeted user may get an alert if they have two-step verification. Therefore, you have to be quick, thoughtful, and careful on the recovery method you choose.
If you can recover using a third-party email, that is much better. All the account details will come to your end before you use them to log in. Some of the popular recovery options involve Facebook, Twitter, and Instagram.
The major flaw with using this option is that it's slow when targetting more than one social account. The recovery protocols will take time, and it always depends on the platform you want to hack.
Part 5: Using the Keyloggers
The keylogger method has always proven to be effective in the hacking industry. It involves fetching keystrokes from devices and then viewing them remotely. Back then, keyloggers were standalone programs. Now, we have them embedded as features in apps like Spyzie.
They can help you see what is typed on social platforms. The best part is that the collected information is organized in log files with logos. You can, therefore, easily detect what is on Facebook and what's on WhatsApp.
To use a keylogger, all you need is to install it on the targeted phone. If you have a reputable spying app, then the keylogger should be there. Since you are using it to collect the typed information, the usernames and passwords will be there.
Once you get the social accounts' entry credentials, the next part is accessing them directly.
Conclusion
People will continue to use social media since it's easier to communicate with others or the world. That will also bring in the need to hack for various reasons. You can use our five ways to hack but remember to be on the better side of the law.
Spyzie is one of the few apps you can use to kill the many birds with one stone. You only require installing it once on the targeted phone and waiting for the answers. That is why many see it as a simple solution for hacking multiple social platforms.